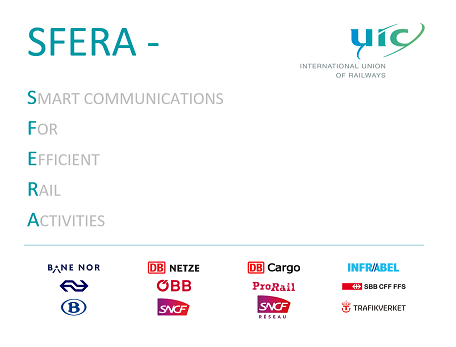 Welcome and thank you for taking the time to consider this document.
SFERA is intended to facilitate the use of Connected Driver Advisory Systems (C-DAS) for interoperable traffic by standardising the data exchange between on-board systems and Traffic Management Systems (TMS). The scope includes both ERTMS/ETCS Limited Supervision and Class B train protection systems. The format is also useful for Standalone DAS (S-DAS) by standardising data interfaces between Infrastructure Managers and Railway Undertakings.
Process
This draft IRS 90940 was endorsed by the SFERA Working Group last 30 September 2019.
You are kindly requested to give feedback to the UIC Energy and CO2 Advisor Philippe Stefanos (stefanos@uic.org), by replying before 04 November 2019, at latest.
Please submit your comments using the templates inside the first archive.
[IRS 90940 Stakeholder Review IRS Comment Template.xslx] file for comments on the IRS and appendices.
[IRS 90940 Stakeholder Review XSD Comment Template.xlsx] file for comments on the XSD files.
Deadline to submit: 04 November 2019
Files
Stakeholder review is closed
The Working Group
Thank you!