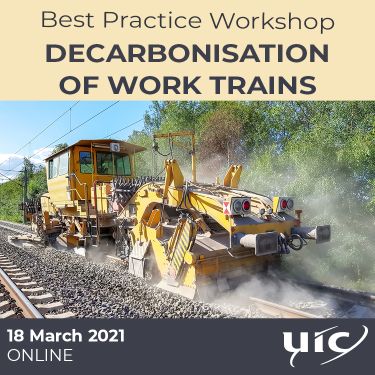 The workshop will take place on Thursday the 18th of March, from 10h to 12h, Paris time.
The workshop is split in 2 parts.
In the first hour Infrastructure managers would give insights in their policies regarding climate neutrality, and which challenges they are facing.
The second hour is for contractors, suppliers and manufactures of machines, to show their commitments to reduce the carbon footprint of their services, the possibilities they can offer, but also the obstacles they are facing. Vehicle owner/leasing companies are also invited.
A time slot in each session will be dedicated to questions and discussion.
Agenda
(2 hours) 10h – 12h, Coffee break 11h00.
Moderator: open

(1 hour) First part
Infrastructure managers' point of view: green work stock procurement, sustainability
criteria in tendering
ProRail
Trafikverket
Network Rail & Ricardo
SBB
(1 hour) Second part
Suppliers and contractors' efforts to reduce the carbon footprint of works
Plasser & Theurer
Vossloh
Strukton
Registration
If you are interested to attend this workshop, please fill in the following form:
You will receive a confirmation e-mail containing an appointment file that you can save to your calendar.
Thank you for your interest,
For any additional information, please contact Sustainability advisor Philippe Stefanos