Safety at Level Crossings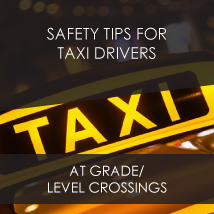 Level Crossing Safety Tips for Professionnal Drivers :
IRU and UIC, two worldwide road and rail associations, plus Operation Lifesaver Estonia, have decided to join forces to raise awareness about level crossing safety amongst transport professionals. This safety guidance does not necessarily cover every situation that may arise when drivers of commercial vehicles use a level crossing, but it may help make them more aware of how to avoid the risks that may lead to a collision.3 flyers exist in 12 languages : click on "Documents" and/or visit http://www.ilcad.org/LC-Safety-Tips.html
ILCAD (International Level Crossing Awareness Day) campaign
"Act safely at level crossings!"
for more info visit: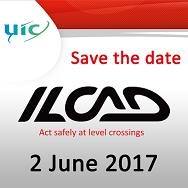 SAVE THE DATE FOR ILCAD 2017: 2 June 2017
9th edition of (International Level Crossing Awareness Day) ILCAD June 2, 2017 Press conference and roundtable discussion Montréal, Québec, Canada
The Railway Association of Canada (RAC), the voice of Canada's railway sector, will host the 9th edition of International Level Crossing Awareness Day (ILCAD) on June 2, 2017, in Montréal, Québec, Canada. ILCAD - which draws railway industry representatives, road authorities, academics and more from around the world - aims to raise awareness about the dangers associated with roadway-railway crossings.
The International Level Crossing Awareness Day is a joint commitment that began in 2009 with ELCAD (EU countries + Israel). Since then, UIC has been coordinating this worldwide event to raise public awareness about the dangers at level crossings. The 8th edition of ILCAD was held on June 10-11, 2016, with over 40 countries in attendance and was officially launched through a press conference and a roundtable. ILCAD 2016 was hosted by Latvian Railways (LDz) with a technical visit organized by Operation Lifesaver Estonia (OLE) in Tallinn.
If you specialize in areas such as level crossing safety, engineering, education, enforcement, human factors, users' behaviour, innovative technologies, land planning, or inspection and wish to bring your expertise as a presenter to this conference, please contact Isabelle Fonverne at UIC fonverne@uic.org
and Janet Greene at RAC: jgreene@railcan.ca
.
For information on past ILCAD campaigns worldwide and the event hosted each year by a different ILCAD partner, please visit: www.ilcad.org ; https://www.facebook.com/ilcad ; http://twitter.com/#!/ilcad or read http://uic.org/com/uic-e-news/503 or visit http://www.ilcad.org/ILCAD-2017,399.html
For more information on the RAC, please visit: http://www.railcan.ca/
---
Some history: The first international level crossing awareness campaign ever took place in 2009.
ELCAD (European Level Crossing Awareness Day) campaign 2009
ELCAD, the first ever awareness campaign on level crossing safety was organised on a European level on 25 June 2009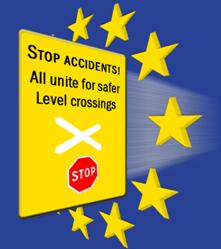 The purpose of the European Level Crossing Awareness Day (ELCAD) linked together a series of national/local events on the same date constructed around a common theme and unique branding. The main purpose of such coordinated action was to focus on education and promote safe behaviour by all users at and around level crossings.
It took place for the first time on a European level on 25 June 2009, 27 countries took part in ELCAD amongst them 19 organised national campaigns (including Argentina and Israel) and 8 press campaigns. A number of European and International organisations including the United Nations http://www.unece.org/trans/main/welcwp1.html welcomed this high number of countries involved, applauded the UIC's efforts in facilitating the success and reaffirmed the necessity to continue such an action in the future.
DG TREN of the European Commission has kindly organised a high-level press conference to promote and publicise at European level ELCAD. This event was held on 25 June at the main press room of the European Commission. The press conference included the following speakers:
European Commission: Enrico Grilo-Pasquarelli, Director for Inland Transport of DG TREN
ELCF: Alan Davies, Chairman and Jürgen Menge Vice Chairman of the (ELCF) European Level Crossing Forum
European Parliament: Inés Ayala Sender, MEP, active member of the Transport committee
European Transport Safety Council: Herman de Croo, president of ETSC and former Belgian Minister of Transport
European Rail Agency: Anders Lundstrom, Head of the Safety unit
Rail Sector: Luc Lallemand, CEO of Infrabel, Belgian Infrastructure manager
A press pack has been dispatched containing the following documents to the journalists:
The European common press release
The programme of events
An leaflet on safety at level crossings
Supportive statements from the United Nations, European and International Railways
CV of the panellists
Contact
Isabelle Fonverne, ILCAD Coordinator
fonverne@uic.org
Keywords